---
AJK's world famous meatloaf:

Stage one Ingrediants:
about 1lb or so hamburger (duh!)
2 handfulls of crackers (smashed)
2 slices of toast (cut into small cubes like crutons)
2 eggs (remember not to add the shells!!! HAHAHAHHAHAHA!!!)
1/4 cup wheat germ
1/2 of a sweet green peper, sliced into slivers (NOT rings!)
1/2 of a sweet red peper, sliced in slivers just like the green pepper
1/2 of a sweet yellow peper, sliced in slivers just like the green pepper (optional)
one medium size onion, sliced in slivers just like the green pepper
1 handfull of baby carrots, sliced into pucks.
1 handfull of frozen or fresh sweetpeas (optional, hey I like 'em)
1 handfull of chopped lettuce
1 handfull of chopped spinich (optional)
2 #10 potatoes washed and cut into cubes, leave the skins on 'em.
2 handfulls of oatmeal.
**HINT** I usually don't really measure any of this, it's mostly educated guesses

Stage one instructions:
1: Pre-heat your oven to 400 to 425degrees F. (well somewhere near there)
2: Wash your hands. :-)
3: Find all this crap, and prepare it as noted above.(smashing, choping, etc.)
4: Place all this crap in a large mixing bowl, and mix it together really well with your hands. (mix for about 10 minutes or longer.)

Stage two Ingrediants:
9 to 13 dill pickle slices
9 to 13 slices of pickled jalapeno peppers
1/8 cup jalapeno pepper juice from the jar(or brine, what ever you want to call it)
some papreka

Stage two instructions:
1: You did wash your hands in step one right?
2: Place the sticky mess from stage one into a CLEAR GLASS loaf pan that is ovenproof and press it in firmly (depending on how much crap you used, or added, it may fill more than one loaf pan).
3: Lay the jalapeno and pickle slices in some interesting pattern on the top of the loaf, then pour the jalapeno liquid over the entire top. Let sit for 60 seconds so it can soak in. Finally, sprinkle the top with the papreka... lots of it if you want. :-)
4: Wash all that gooy sticky crap from yer hands, so you don't dirty the oven. :-)
5: Place the cover on the loaf pan and cook it for about 1 to 1.5 hours. The top should be a golden brown, and *almost* the the point of starting to burn. Any liquids in the loaf pan should be boiling like mad!
***DO NOT TAKE THE LID OFF DURING COOKING*** it is VERY important for the juice to self baist the loaf and why you NEED to use glassware!!!

Serving Suggestions:
1: Hot right out of the oven, with mebby some plain noodles.
2: For breakfast as a sandwich (heat it) with lots of mayo! (MMMM MMM GOOD!)


---

AJK's Melted Earth:

Ingrediants:
1 can of "Cambell's<tm> Cream of Mushroom Soup" (IMPORTANT, DO NOT USE AN OFF BRAND!)
1 can of frenched green beans (about a 14.5oz can)
1 can of mushrooms (optional, i like 'em, 7oz can, any style)
10 to 20 frozen precooked sweedish meatballs, add more or less to suit as these are strong tasting.
about 8oz of size 61 elbow macaroni
Olive oil.


Note that fresh beans and musrooms will alter the taste, and probably make it horrible. Same for the meatballs, make sure they are precooked and frozen.

Stage one instructions:
in a wide sauce pan, place:
frozen meatballs,
condensed mushroom soup,
frenched green beans (DO NOT DRAIN water and all!)
mushrooms, if you wanted the extra ones (DO NOT DRAIN EITHER!)
Put over high heat and stir until it begins to boil.
Lower heat, mix in 1 tablespoon olive oil and let the water evapourate until the sauce becomes thick.
This could take 1 to 2 hours depending on the size of the pan used.
Set aside and let it cool and thicken.

Stage two instructions:
Boil your macaroni with 1 teaspoon olive oil added to the water until it's el dante (firm to the bite, don't over cook it!!!).
Strain, but do not rinse the macaroni.
While the macaroni is still extrememly hot, throw it into the sauce pan and mix vigourously.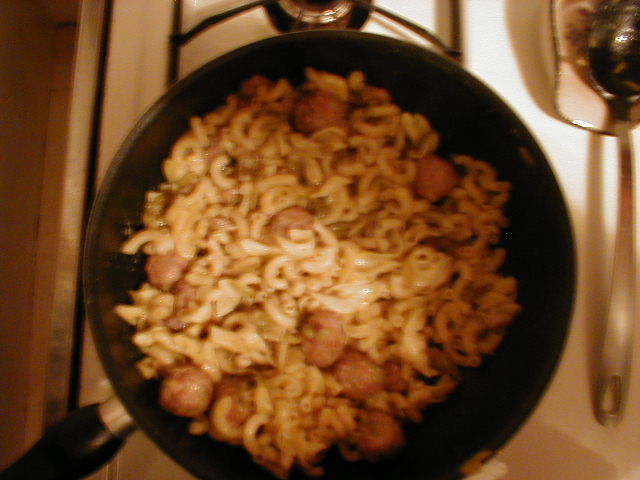 Serving Suggestions:
Can be served by it'sself or with a colorful side dish. If you think food needs to be colorful and balanced (carrots or something would be good for this).


---

MORE TO COME!!!

---

All pages (C) Andrew J. Kroll, FTSOY priest, SAASTLA member